Dyantorch CNC Plasma Cutting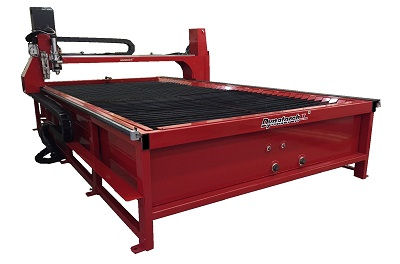 An Incredible CNC High Definition Plasma Machine At A fantastic Price
Our CNC High Definition Plasma Machine is Upgraded and teamed up with the best plasma systems on the market
Product Overview
Available cutting areas for HF: 4×4, 4×8, 5×10, 5×12, 6×10, and 6×12 ; enquire about custom sizes.
It includes the same gantry, drives and software as our XLY tables, with additional RF Noise Suppression measures,
that High Frequency Plasma Systems require. Made in the USA.
The XLY HF SERIES CNC plasma machine is sold as a complete cutting package,
for use with certified high frequency start units. The XLY HF SERIES is created to operate with cutting speeds
well in excess of 400 IPM that are demanded by larger amperage, multiple cutting gas,
and high production Oxygen Plasma generators.
These Plasma generator's offer fast dross "free" cutting,
that saves time and labor, increasing production.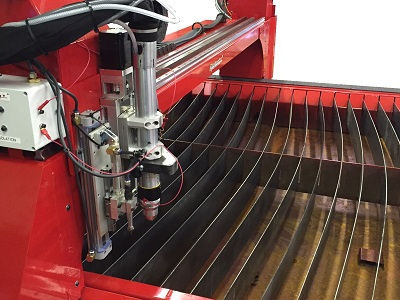 Structure:
Heavy duty welded steel table and gantry with a bright red powder coating finish.
All axis utilize precision ground 25mm linear guide rails and bearing blocks just like the high end machines.
Torch collision protection is built into the Z axis slide assembly.
Our new upgraded frame is now constructed from 2×4 tubing.
This change allows the capacity with either dust collection system to be over 4,500 pounds.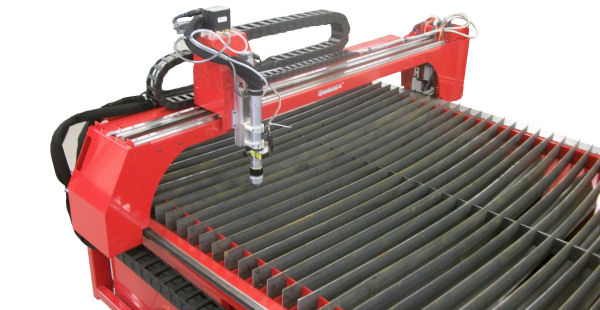 Drives:
New Closed loop Bruchiess Servo drive. These are 400 watt motors
driving low backlash planetary gearboxes on the X and Y axis.
No belts or pulleys. The drives are engaged into the racks with air pressure to elliminate backlash.